Curious how often you should rotate your tires? It's crucial to know when to rotate tires as a part of regularly scheduled Subaru service. As for how many miles to rotate tires, as a rule of thumb, you should generally rotate your tires every 5,000-7,500 miles. However, you'll always want to check for the exact tire rotation interval in your model's owner's manual. Santa Cruz Subaru is here to help you learn when to rotate tires, as well as offer you any service tips you need to keep safely traversing the Capitola roads.
---
Why You Should Rotate Your Tires
In addition to wondering how often you should rotate your tires, you may also be wondering why it's such a crucial part of regularly scheduled maintenance. Tire rotation actually extends the life of your tires! Additionally, added benefits include:
A smoother, quieter ride
Less stress on your vehicle's drivetrain
Improved traction regarding tough terrain and inclement weather 
If you regularly rotate your tires, you'll be ready to conquer any tough terrain you encounter on your Monterey drives. However, you'll still need replacement tires eventually, even if you properly care for your current ones. When you're ready for new tires, rely on our tire center and be sure to check out our current service specials to get the best deal!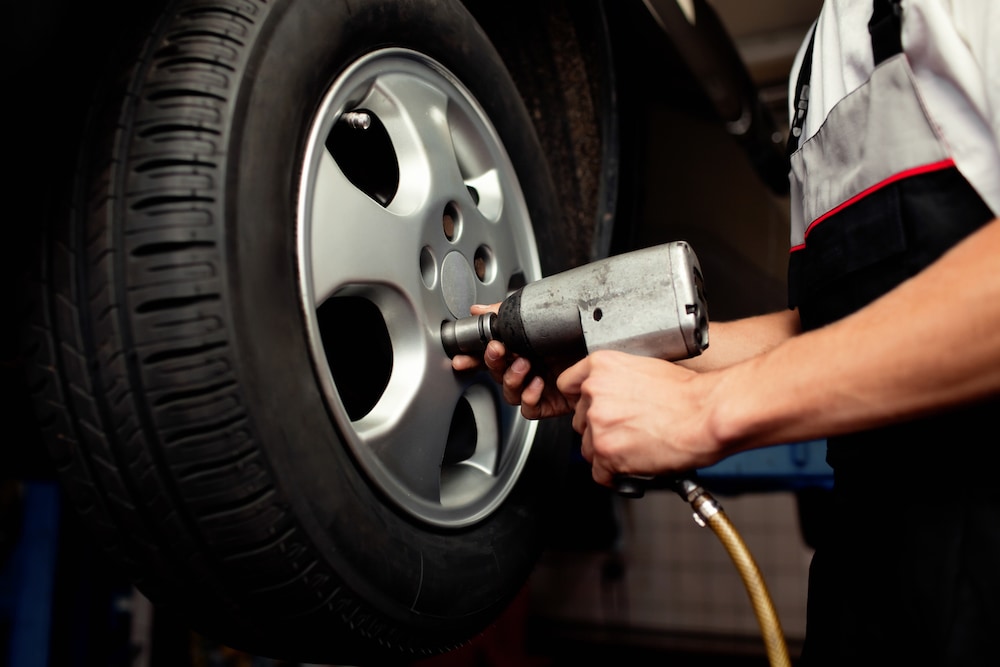 ---
Rotating Tires: FWD vs. RWD Vehicles
Now that you know how many miles to rotate tires, let's get down to the details. The process of rotating tires is a bit different depending on your drivetrain. Front-wheel drive and rear-wheel drive refer to where the power of the engine is sent. If you have a front-wheel-drive vehicle, power is sent to the front tires; for rear-wheel-drive models, power is sent to rear tires. What this means is that the tires that get the engine power will wear out more quickly. If you drive a FWD or RWD model, you'll want to keep these tips in mind when you rotate your tires:
Wondering when to rotate tires for FWD and RWD models? Tire rotation should be performed roughly every 5,000 to 7,500 miles, but you'll want to consult your owner's manual to be sure.
Performing a FWD tire rotation at home? Be sure to flip sides when you get to the rear tires. For example, the rear right tire should be moved to the front left. However, if you are moving front tires to the back, you will keep them on the same side.
Rotating tires on a RWD car? You'll simply invert the above process. You'll want to flip sides when moving front tires to the back and keep rear tires on the same side when you move them up front.
How you drive has a huge impact on tire health and how often you should rotate your tires. If you take a lot of Scotts Valley off-roading adventures, you may need to rotate your tires more frequently than the average daily driver.
---
Rotating Tires: AWD Vehicles
Wondering how many miles to rotate tires on AWD vehicles? Because each tire wears differently and at different speeds, rules will differ slightly. While you'll still want to refer to your owner's manual, most AWD vehicles should have their tires rotated every 3,000 to 5,000 miles. Can't remember the last time you had tire service? Our service department can help! Our technicians will be able to tell if your vehicle is due for a rotation.
---
Rely on Santa Cruz Subaru for Tire Services
Whether you need to know more about when to rotate your tires or you have questions about how to program a Subaru key fob or how to set up your Subaru for camping, we can help! If your vehicle is due for a tire rotation or another service, please schedule service with us at your convenience! If you have questions before stopping by our Santa Cruz service center, please don't hesitate to contact us.