The 2022 Subaru Love Promise Customer and Community Commitment Award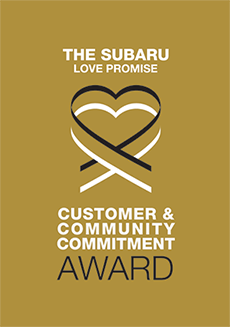 We've been nationally recognized for our dedication to our customers, our community, and the Subaru Love Promise.
We're honored to receive the 2022 Subaru Love Promise Customer and Community Commitment Award. This award nationally recognizes elite Subaru retailers who provide an exceptional customer experience at every interaction with Subaru. These retailers have also demonstrated an outstanding commitment to supporting passions and causes in their local communities in important areas such as the environment, community, health, education, and pets.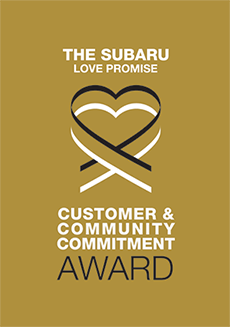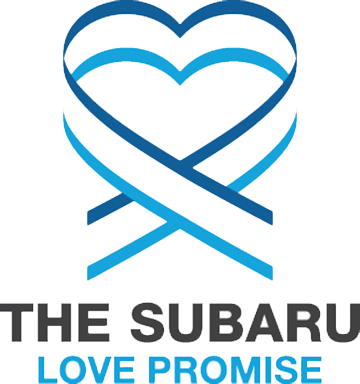 What is the Subaru Love Promise?
Subaru and our retailers believe in making the world a better place and the Subaru Love Promise is our vision of respecting all people. This is our commitment to show love and respect to our customers and to work to make a positive impact in the world.
How is Santa Cruz Subaru dedicated locally to the Love Promise?
Our Love Promise can be seen in various partnerships with local charities and non-profits. We're grateful for the opportunity, not only to be a part of our community, but to serve it as well.
Santa Cruz County Animal Shelter , Santa Cruz County SCPA
Starlight Elementary School
Hope's Closet , Santa Cruz Diversity Center , Walnut Ave Family and Women's Center
Hospice of Santa Cruz County and Dominican Hospital
Love Promise Stories from Santa Cruz Subaru
Subaru and Santa Cruz Subaru believe in making a positive impact on the communities in which we live and work. We uphold that belief through our Love Promise Community Commitment. Every month, we select inspiring stories from customers and partners from around our area who strive to support our collective commitment and feature them here
Hospice of Santa Cruz County - Jennifer D
Dear Jeff and Sheriff Thank you for including Hospice of Santa Cruz County as one of your community charities for the Share The Love Campaign. Over the past six years your have provided $158,000 to support community funded programs that tour the live of the children. Camp Erin, your grief support, and concurrent care for children are programs that serve children at their most vulnerable, provide card at the bedside, one-on-one grief support sessions and, most recently, a day-long camp for grieving children. Camp Erin is a free camp designed specicically for children who have lost a loved one. The camp provides a balance of frief support activities staffed by our team of firef counsellors and volunteers, and play. Most children attending camp have never met another child what has experienced the death of a loved one. THe opportunity for shared experience is healing and nuturing. In October we hosted 30 children for a day-long camp. Campers came from Sacramento, Sunnyvale, and throughout Santa Cruz and Monterey Counties. We plan to resume hosting our usual overnight camp in June. Ella is nine. Her father passed this past year. When Ella arrived at camp, she informed her Camp Buddy that she had at least a million things she would rather do. She was sullen, anxious, and withdrawn. Her Camp Buddy warmly welcomed her and invited her to join in whenever she felt comfortable. Ella participated in the memory board exercise and the music therapy exercises. As the day progressed, she sought out her Camp Buddy to share "how cool" everything was. She evern shared her story and bonded with another camper over a similar loss. At the end of the day, she enthusiastically shared her experience with her Mom, who was relieved and thankful for her daughters experience. We recognize that every time a child comes to camp, they are taking a chance. They are vulnerable. Their leap-of -faith compels us to create a compassionate community that honors each child wherever they find themselves in their journey. Just like Ella, we know that you have a choice when you select the community organizations to participate in the Share the Love Campaign. We truly appreciate your support and look forward to our continued partnership. With gratitude, Jenifer
---
Hopes Closet of Santa Cruz - Donna O
Our mission to dontate clothing, shoes, underwear, blankets, books and toys to families who have children in need. We realize that a child having adequate clothing is not only a necessity of life from a physical stand-point but having some of the simple things in life such as shoes, underware or a jacket that many of us take for granted, does wonders for a child's self-esteem. We provide approximately 3,000 "Bundles of Hope" each year to children from low income families. Each bundle contains gently used clothing, shoes, books and toys. The bundles of Hope are provided free of charge. The 2020 donation from Santa Cruz Subaru had a significant impact of our operations. Without your generous support we would not have helped as many families, especially during crisis events like the pandemic and the wildfires in which we saw so many new families who otherwise wouldn't have need our services. Thank you for supporting our work. Your genersity will provide hope to so many children. Sincerly, Donna Odryna Board Chair
---
Meals on Wheels for Santa Cruz County - Lisa B
Dear Evan, Thank you to the Santa Cruz Subaru team for providing meals for Santa Cruz County Seniors. Proceeds from the 2020 Share the Love campaign have resulted in $5,501.78 to provide healthy meals and caring human contact with any local senior in need of support with preparing their meals. And thanks to your partnership, we also delivered 38 warm blankets to local seniors and 620 holiday cards. We shared 15 social media posts, two email newsletters, and a press release with supporters. Your partnership has been vital to helping local seniors stay safe in their homes while also staying connected with a community that cares for them.Your leadership truly provides food from the heart. Thanks to community partnerships like your, we were also able to expand services over the past 12 month to provide two meals per day to improve food security and nutrition among local seniors. We hope that the Santa Cruz Subaru team and your customers experience the Love and Support that you have provided others during this time. We are truly grateful for your partnership serving local seniors. Best Wishes to you and yours Raymon Cancino and Lisa Berkowitz Meals on Wheels for Santa Cruz County
---
Blind Senior Husky finds his forever home! - Erika A
Dakota came to the Santa Cruz County Animal Shelter as an owner surrender. His owner was moving and could not keep him any longer. Dakota had lived with children and another dog in his former home. He enjoyed going for car rides and was a great companion. At 10 years old, Dakota was a bit slower than he used to be and blind. Despite these geriatric conditions, he had a heart of gold and enjoyed being brushed by volunteers and sunbathing while soaking up attention. Staff and volunteers showered him with love during his stay. The veterinary staff examined him and found that although being blind, he was in generally in great health for his age. Next step was to find this sweet guy an equally wonderful home. Dakota met a wonderful family just 13 days after he entered the Shelter. On Halloween, Dakota got to spend his first night in his adoptive home. Santa Cruz Subaru helped promote adoptable dogs during the month of October. This helped to support the SCCAS, the county's only open admission Shelter, and adopt 175 animals into homes! Thank you Santa Cruz Subaru!
---
Meals on Wheels forSanta Cruz County - Brenda R
Since 2018, Community Bridges' Meals on Wheels for Santa Cruz County, in collaboration with Santa Cruz Subaru have shred the love of giving though the Subaru Share the Love event. Our partnership with Santa Cruz Subaru helped Meals on Wheels meet the nutritional needs of Santa Cruz County older residents during the holiday season and beyond. The Subaru Share the Love event has raised $16,415.55 which translates to 1,614 nutritionally balanced meals for our seniors!! Without these meals, many seniors would go hungry, as many of those we serve are low-income, home bound, do not have existing support system, or cannot prepare a meal on their own. Santa Cruz Subaru has made a lasting impact of our seniors and have brought holiday cheer while participating in our Christmas Day meal delivery event. We thank Santa Cruz Subaru and Subaru of America for supporting the nutritional needs of Santa Cruz County seniors In community, Lisa Berkowitz Division Director, Meals on Wheels for Santa Cruz County
---
Meals on Wheels Delivery - Evan S
Evan, Thank you so much for coming along for our meal delivery on Christmas Eve and for your contribution to the Share the Love Event. Last year we were able to receive a donation of over $9,000!!! This money goes so far to help people in the Santa Cruz Community who truly need it. Thanks again and we look forward to keep collaborating in the future. Best, Brenda Romero Grant Writer Community Bridges
---